Preparing Your SaaS to Defend Against Commoditization
Jan 19, 2021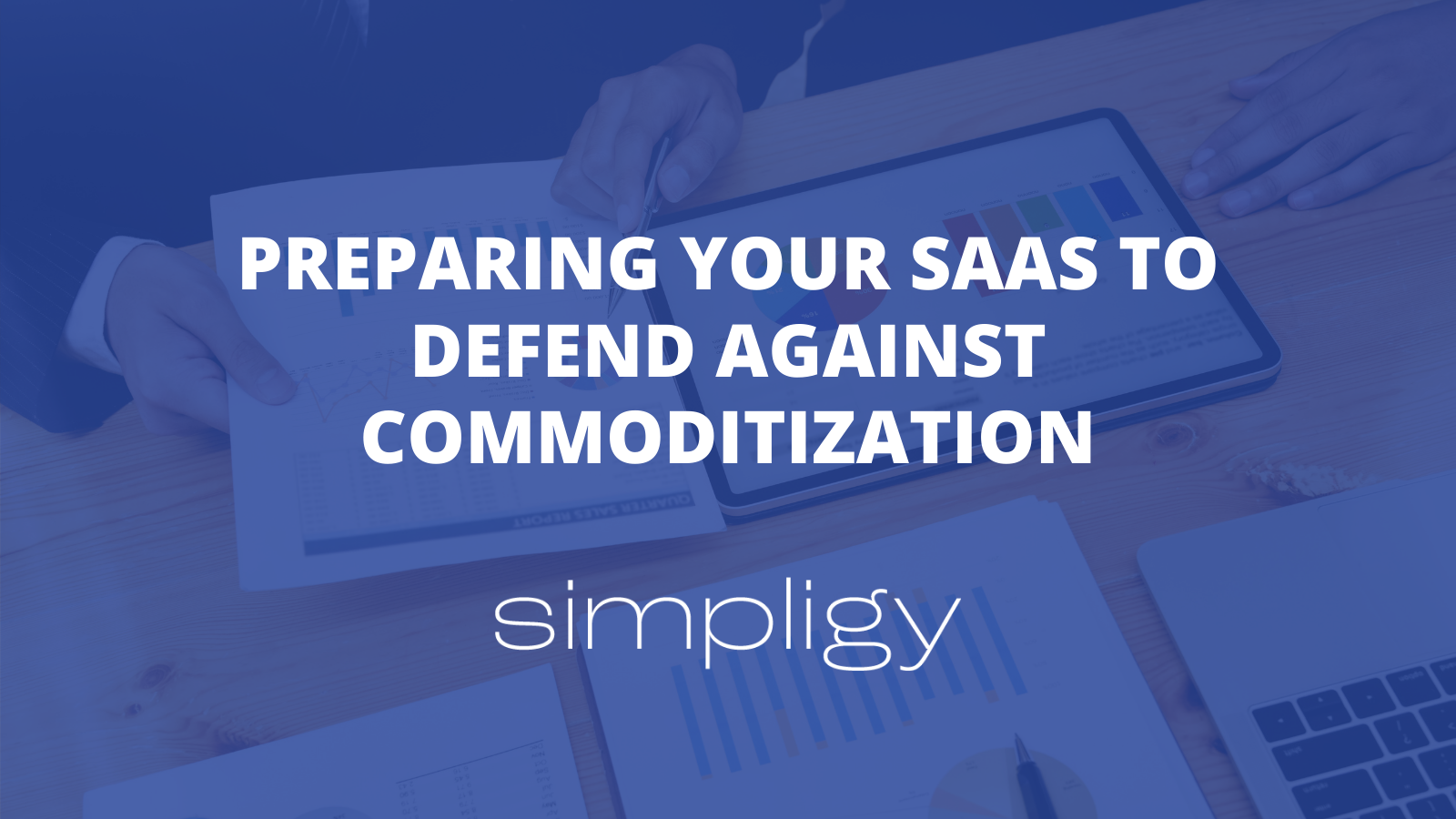 If your SaaS business is experiencing success or growth, or on the cusp of it, I've got some bad news for you; Winter is Coming!
Ok, so GoT quotes aside if you don't accept and prepare for commoditization now, you may be in for a world of hurt just when things seem to be going great. Unfortunately, commoditization is inevitable in SaaS industries but, that doesn't mean there aren't smart ways to ensure your SaaS remains successful in spite of it. Read on, let's get into some details.
One of the things we see with companies who have been around for a very long time, is they tend to have something in common. A successful strategy for navigating (and remaining relevant within) a market that has become commoditized. As I've already said, commoditization is a threat to any successful industry (are you catching my drift, yet?), but it is particularly tricky for a SaaS business due to the speed with which it happens.
Before you can strengthen your SaaS company against commoditization, you have to fully understand the market and what your options are. Here's some information that should go a long way toward helping you to make important decisions.


How a Market Becomes Commoditized
A commoditized market is one which has a number of products or services that are almost identical because there is a widespread demand for a common functionality.
For instance, a person or company will create something so innovative that there is virtually no significant competition. These are the most perfect instances of the old entrepreneurial adage, "find a need and fill it" but, of course, that cornered market rarely lasts long.
As soon as consumers fully buy into the advantages of a product or service, they will be buying it in droves. At which point, savvy developers and manufacturers start producing their own versions, and the market is rapidly flooded with products or services that all offer basically the same thing. Soon enough, all that competition drives prices down and results in the surviving products competing on a reliability scale, versus the innovation that got them noticed. Sadly, more often than not, that signals the end of further innovation in the space.
When this happens to a physical product, manufacturers have much more scope to make changes in things like design or quality of materials but, the options for SaaS service-based businesses are far more limited.
Note, none of this means the sky is falling, it pays to remember that only one brand has become the #1 Customer Relationship Management platform. It's possible. You just need a strategic approach and, being prepared is key.


SaaS Commoditization Factors
If you currently have a successful B2B SaaS company, then chances are, your market is either already commoditized or well on its way. The factors influencing commoditization are much stronger now than they were even just five years ago. And, frankly, they are just going to continue to become more powerful.
Both investors and management will find things extremely challenging as commoditization increases speed over the next 10 years. Thanks to improvements in the cloud, code sharing and open source, and even AI, SaaS companies, more than any other market, need to make preparation for commoditization a part of business planning.
Although the cloud, AI and open source code have created massive opportunities for innovation through their symbiotic relationship, they also speed up the cycle of commoditization.


Is Your SaaS Business a Commodity, Yet?
This is kind of a good news/bad news situation. Obviously, only successful services will become a commodity. So reaching that point means you have been doing a lot of things right, and achieving a great deal of success. Unfortunately, the consequences of commoditization are not always so positive. With so many similar products on offer, differentiation is often less about innovation than about price or reliability. The risk here is that a more established company mistakenly thinks their brand will act as a substitute for quality. In fact, the two need to work hand in hand, one without the other will result in almost certain failure. As a result, it's not uncommon for the very same people who created the sector to be forced out by later entrants to the market.
Don't let that happen to you.
We all know that managing growth can be one of the most difficult challenges a company can face. The same success that makes growth necessary will also foster commoditization. So let's plan for it. In order to create an effective plan, you first need to understand where you fall on the value map. At one extreme are the premium offers, while the other extreme holds the discount offers. It's vital that you understand your own industry and determine where your company is located.
Especially true in SaaS markets, we see the value equivalency line skew as the market commoditizes. There is a period of time as more choices enter the market, where the existing players begin adding value and functionality. However, additional value rapidly becomes a strategy to keep customers and, except at the very upper end of the market, increased features and value rarely allows for increased prices. Remember, your existing customers invested in your SaaS because you solve a specific problem. Unless your new functionality or features provide that solution for them faster or with less effort by them, you're wasting development resources if you're doing it to keep your existing customers from jumping ship. Of course, additional functionality or features may hold the key to new markets or customers — you just need to be clear on the desired result and, most importantly, who it benefits.
When a market is commoditizing these days, buyers simply don't want to pay for more features anymore. That makes it really hard to significantly differentiate yourself from the competition.
Since we can now agree that commoditization is inevitable, we should look at what to expect and how to plan your next steps to ensure your SaaS is a success. The first thing to expect is that a few of the larger platforms will begin to dominate the industry. Take a look around your vertical and see if that's already happening. Next, ask yourself whether there is an established, standard functionality required for everyone in your vertical and see if the low end of the market has begun to be flooded with alternatives at lower prices. See if there are open source variants appearing and, if so, what their customer buy-in looks like. Are people talking about how they "switched from…" to the open source alternative? You'll probably already know this because it's one of the first things that we experience as entrepreneurs but, are prices being put under pressure to meet an "established norm"?
These are just some of the signs that your market is becoming commoditized. Chances are, you will spot signs of commoditization happening in your industry. That will be the time to act quickly. There are basically 3 options.


Best of Breed
Most of us think the ultimate result is to become a highly differentiated service provider, which would put you in the elite air that is reserved for premium offers. Of course, branding for differentiation is based on the premise of commanding higher prices through being perceived as Premium. However, although, you won't have a whole lot of company in this quadrant, all of you will very likely end up related somehow to a dominant platform like Microsoft, Google, Amazon or Facebook. Your brand will equal a high level of quality and success.


Volume
This is not a strategy we'll recommend to anyone but, if you decide to place your business in the bottom of the industry and exist only with the discount offers, then you will need to reach peak efficiency with scale and costs. Your SaaS will have to achieve an enormous amount of growth and create an extremely powerful brand, something that is very difficult to achieve when your value proposition is, "we're cheap!"


Niche
The most exciting option for most is to develop a specialization that is so deep it is practically another industry. This is likely the most effective direction because you have so much data and tools at your disposal that you almost have a private needs analysis at your fingertips. Often, you can identify a highly lucrative niche by targeting a specific subset of your clients, then getting so close to them that you understand their business problems and can develop your existing solution into an effective solution for your most high-value clients.


Bottom Line
Companies with management that understands commoditization well enough to recognize the earliest signs and who can respond proactively stand a much better chance of not getting trapped in a flood of look-alikes. If you can positively distinguish your brand, then there is no reason you can't thrive within changing market conditions, including commoditization.


Next Steps
Jump over and take a look at our Definitive Guide to Positioning your SaaS Brand to learn a structured process for identifying and developing your unique position in the market. Your brand Positioning is your flag in the ground, it's the reason people pay attention to your message over all others. By clearly defining this Positioning with your team early, you can eliminate the noise, do away with indecision, and attain the team consensus you need in order to defend against commoditization in a rapid timeframe.