10 Easy-to-Fix SaaS Challenges and Mistakes
Feb 07, 2021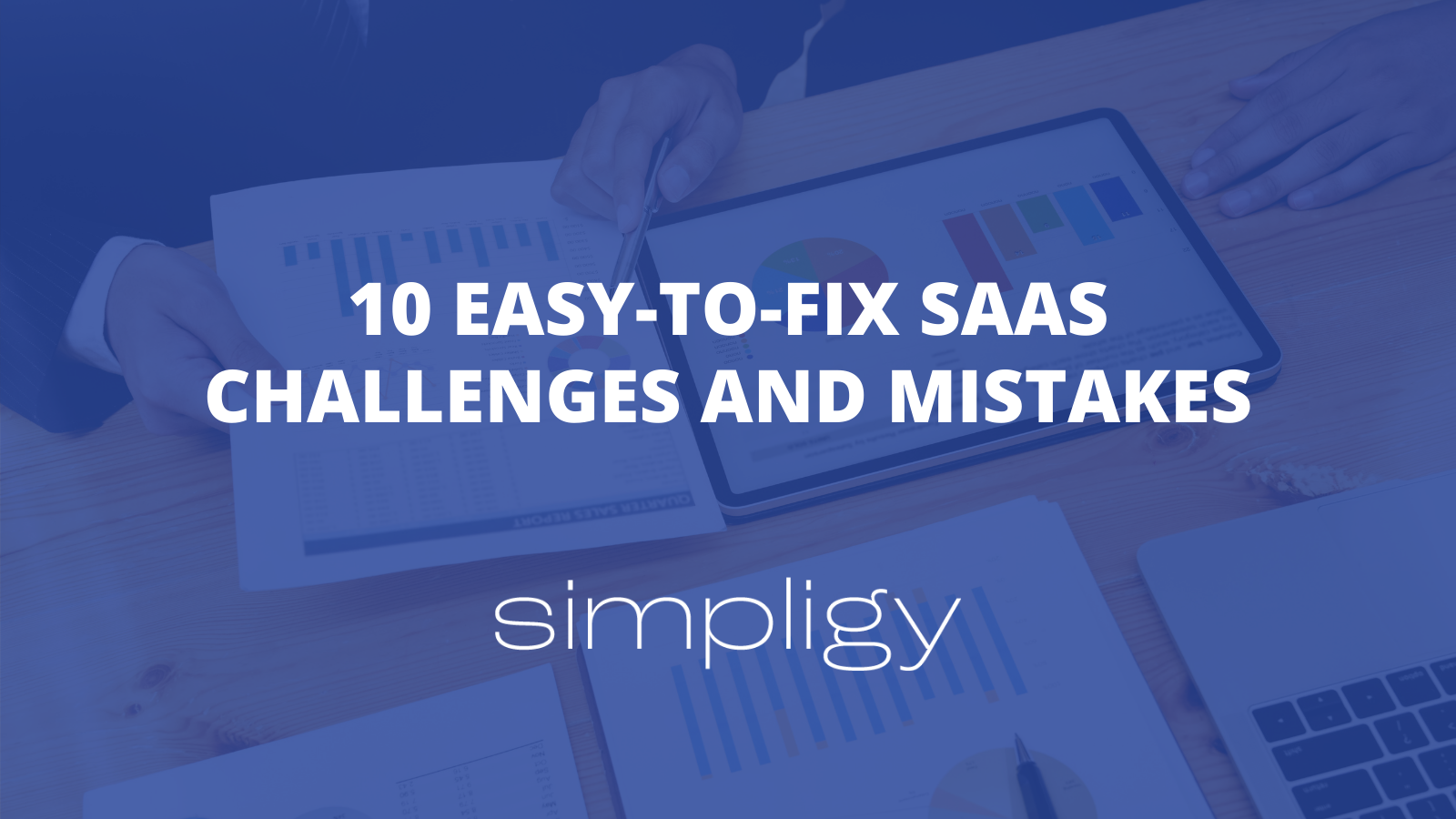 Everywhere you look, there's seemingly a new SaaS popping up serving some obscure market or another. When you dig a little deeper, though, we start to see that the overwhelming majority of these companies don't survive the first five years. Even with a favorable business landscape for SaaS companies, many more fail than succeed.
The fact that you're here tells me you're either involved with a SaaS or you're just about to launch. Before you go any further, take five minutes to scan the following mistakes and challenges typically faced by SaaS companies and ensure you don't follow the same path.
Did you know that, statistically, only 10% of startups will ever make it to the finish line? Here's where many companies, startups and, specifically, SaaS providers typically go wrong:


1. Fully understanding your SaaS' Ideal Client doesn't have to be a huge challenge.
Smart companies understand that understanding their Ideal Client is the only pathway to growth in their market. It simply doesn't make smart business sense to throw dollars away on marketing tactics without first knowing exactly who you're speaking to…. and why.
By focusing on delving deeper into your target audience, you'll have the information you need to validate to the market's viability and potential for revenue. When you know your Ideal Client, you can convey your messaging in a way that speaks directly to them, attract only qualified prospects, and better focus your product offering to their needs.


2. Planning your Budget and sticking to it is crucial for all businesses, but especially Startups.
Burning through financial resources can be easy to do and many young companies make this mistake early on, not really appreciating that time and money are not endless assets.
Successful companies know that it's vital to budget for their expense projections and accurately track their spending.


3. Attracting & Retaining World-class staff will help ensure company growth. How will branding help you to develop this team?
A well honed Brand that has a strong Mission, an extraordinary vision and a solid set of values will draw in the type of World-class staff that can align themselves with these messages.
Collaboration is a fundamental requirement for all SaaS businesses, so allowing your team of top assets to connect with you at your core, will ensure they can communicate the company culture internally and externally, which encourages staff retention and an enviable culture for all.


4. Knowing your competitors and what they're doing is important, but differentiating in your market is crucial.
Keeping up with your competitors every time they roll out new features or offerings is not only crazy, but makes you a carbon copy of that competitor and can drive sales down in an already commoditized market space.
Companies that have seen substantial growth have focused their efforts inwards, stopped obsessing over their competitors and found a way to differentiate their product in the market space, ensuring that they become "The solution" and not just "A solution" in a sea of sameness.


5. A SaaS business must follow a strategic pricing plan that speaks to your ideal client.
You can't be everything to everyone successfully. Your pricing model should reflect your offering and your target audience, which includes understanding their needs and expenditure.
If offering a Free Trial helps to create less churn in your business, but is not financially viable, then find other ways to add massive value to your clients that is. Remember that solving peoples' problems and helping them to be successful should be what gets you out of bed in the morning. But, once you start serving these needs, you have a responsibility to continue serving the customers who now trust and rely on you. Being profitable is not just smart business, it's the only way to ensure you can satisfy that responsibility into the future.


6. If user experience isn't a focal point of your SaaS, it's time to change your focus back to your customers.
Taking the time to know what your customers need is only the first step. It's vital that you learn to listen and adapt to your users' experiences. In addition to developing a brand voice that has everyone in your organization engaging with your audience in the same tone, a smart brand strategy will have you focused on client needs, ensuring you continually listen to them and how they use your product.


7. Plan your success route with a good business plan.
A foundational roadmap will help you achieve success. It's easy to get caught up admiring the genius of your idea but no business can succeed without a strong, and complete business plan. You'd be surprised how many great ideas found their way to bankruptcy by failing to develop — and follow — a business plan.
8. Don't rely on the product to sell itself.
Many SaaS businesses have failed simply because they focused too much on their product, and too little on their brand and target audience. By now, you've developed a complete understanding of your ideal customers and a deep understanding of their pain points. Just knowing how you help won't matter, though, if you don't tell anyone. The product needs to be promoted intelligently where those clients live, allowing you to build trust with them and speak to them in a way they can connect with.
9. It really is all about the foundation.
Keeping your vision firmly in place, while knowing where you are on the journey. If you are connecting with your customers correctly, they will help to motivate you and inspire you to reach your goals but it's equally important to keep your purpose firmly in mind. Being real and allowing your flock to see your future will keep you on track while endearing you in the hearts of your following. Your success will also be their success.
10. Timing is everything.
You only get one chance to make a first impression, so make sure you plan on releasing your new product to market at the right time to give your SaaS company a significant competitive advantage and allow you to capture a large market share. Easier said than done, though, without knowing who else is targeting the space. Watching your market, its competitors and products, is one essential key to knowing the right release time.


Next Steps
Want to ensure you start your SaaS brand on the right footing? Jump over and take a look at our Definitive Guide to Positioning your SaaS Brand to learn a structured process for identifying and developing your unique position in the market. Your brand Positioning is your flag in the ground, it's the reason people pay attention to your message over all others. By clearly defining this Positioning with your team early, you can eliminate the noise, do away with indecision, and attain the team consensus you need in order to defend against commoditization in a rapid timeframe.